Keys Available: 0
GET KEY

Visit Remnant Knights to create the account

Download the client from the Remnant Knights Homepage

Log in and Create/Choose the character you want to receive the reward

Open the in-game "Samba Shop"

Select the option "Redeem Code"

Enter the code in the pop-up window
Remnant Knights is an amazing 3D Anime inspired MMORPG, with guns, blades, and magic, and loads of action!

Blast through the learning stage to craft/enhance items, join a club and gather powerful gear FAST!
Now is the time to join the Remnant Knights community as SeptemberFest has just started, with thousands of giveaways and prizes happening all month long! Prizes include more than a thousand 5$ 7-Eleven Gift Cards, FUNimation Anime Blurays and DVDs, tons of in game freebies, and a brand new Alienware Gaming Laptop for the grand prize winner!
Go here to check out SeptemberFest now!
Follow the directions below to get your Booster Pack and win free stuff!

Arena Booster Pack Includes!

•    1x  Warrwulf Mount (15 Day)
•    3x 100% Experience Booster Pendent (1hr)
•    10x Advanced Mana and Health Potions
*Keys are redeemable immediately and redemption expires October 12th.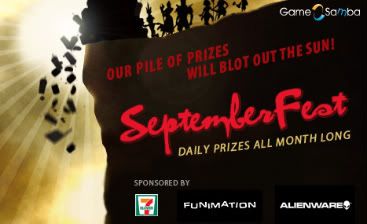 Comments
Add Reply
You are not logged in. To leave a message you must Login First.