Descent Underground
INFORMATION
A true first person shooter deserves all six degrees of freedom. Fight through twisting tunnels & vast caverns where the concepts of up and down mean nothing and danger lurks around every corner. This is Descent: Underground Early Access! 
We're blasting the full-freedom shooter Descent into the 21st Century with next-generation gaming technology built on Unreal Engine 4! 
Descent: Underground is a both a prequel to the Descent series and a modernization of the original game play. We're staying true to the original flight mechanics, arcade style combat, and tightly twisting map design while taking it to the next level!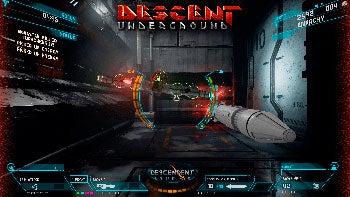 Our vision for Descent: Underground includes: 
- Multiplayer shooter action in a full six degrees of freedom 
- A variety of customizable ships and roles suit every play style 
- Individual and team game modes for multiplayer 
- Community-driven development w/ weekly video streams 
- Mine for resources, power-ups, and to locate hidden tunnels 
- Prove your prowess with rankings, achievements, and leaderboards 
- Singleplayer storyline missions
Join us at http://descentunderground.com  to help shape the future of the game with your playtest feedback, suggestions, and more! Follow on Twitter https://twitter.com/DescStudios  and Descendent Studios on Facebook https://www.facebook.com/DescendentStudios  and YouTube  https://www.youtube.com/c/DescendentStudios for the latest Descent: Underground news http://descendentstudios.com/community/rss/blog/.