Sad... I really liked this actor!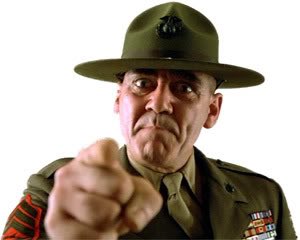 http://www.nydailynews.com/entertainment/movies/lee-ermey-full-metal-jacket-star-dead-74-article-1.3935625
R. Lee Ermey, the actor best known for his role as Gunnery Sergeant Hartman in "Full Metal Jacket," died Sunday from complications of pneumonia.
He was 74.
"He will be greatly missed by all of us," his longtime manager, Bill Rogin, said in a statement. "Semper Fi, Gunny. Godspeed."
Ermey, who typically played military roles in movies, enlisted in the Marine Corps at just 17 after his second arrest for criminal mischief. He spent 14 months in Vietnam beginning in 1968 before moving to Okinawa. He was eventually given a medical discharge in 1972.
While studying at the University of Manila in Philippines, Ermey was cast as a chopper pilot in "Apocalypse Now," where he also served as a technical adviser to director Francis Ford Coppola.
But Stanley Kubrick was the first to see Ermey's true on-screen potential. After being hired as a technical adviser for "Full Metal Jacket," Ermey was instead moved to a speaking role after proving just how well he could yell at subordinates.
"I'd say fifty percent of Lee's dialogue, specifically the insult stuff, came from Lee. You see, in the course of hiring the marine recruits, we interviewed hundreds of guys," Kubrick told Rolling Stone in 1987.
"We lined them all up and did an improvisation of the first meeting with the drill instructor. They didn't know what he was going to say, and we could see how they reacted. Lee came up with, I don't know, 150 pages of insults."
The role, for which Ermey earned a Golden Globe nomination for best supporting actor, launched a career that included almost 60 movies, flicks like "Mississippi Burning," "Se7en," "Leaving Las Vegas," "Man of the House" and the remake of "The Texas Chainsaw Massacre."
On TV, Ermey had smaller roles, but stayed busy as Dr. Gregory House's father on "House" and a reverend on "The X-Files."
He also lent his voice to animated projects including "Toy Story," "Kim Possible," "The Simpsons," "Family Guy" and "SpongeBob Squarepants."
In 2015, the Outdoor Channel launched "Gunny Time," "a fully immersive host-driven television series focusing on weapons and weapons technology past, present and future" hosted by the actor.
Thirty years after leaving the Marine Corps, Ermey received an honorary post-service promotion to gunnery sergeant for his continued support to Americans in the military.
In recent years, Ermey, an NRA board member, claimed he had been blackballed by Hollywood for his disapproval of President Obama.
"Do you realize I have not done a movie in five to six years? Why? Because I was totally blackballed by the... liberals in Hollywood," he told Fox in 2016. "They can destroy you. They're hateful people (who) don't just not like you, they want to take away your livelihood... that's why I live up in the desert on a dirt road... I don't have to put up with their c--p."