Alienware launches Alienware S5000 Gaming Chair
You guys remember when I made that "What If" Alienware Product video and showed the Headset and said "This stuff isn't really coming out" and then a week later the headset came out because I lied? Well I LIED ABOUT THE NEW ALIENWARE GAMING CHAIR TOO!
https://dell.to/2T8D7K9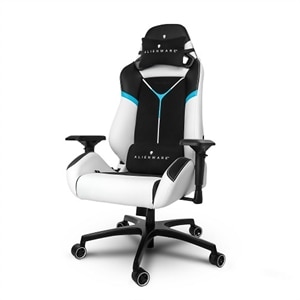 The S5000 is truly a gamer's delight and will hit the sweet spot for extreme gamers. The racing-style gaming chair empowers your everyday gaming with the right features. Designed to give a wide range of adjustability that provides gamers with the best comfort and ergonomic support in every position for extended periods of time. The high backrest is designed to provide greater neck, shoulder,and lumbar support. 
 
Ultra Premium High Resiliency Foam
Our interior foam boasts a density that puts it well above the standard High Resiliency foam. Where High Resiliency foam sits at approximately 2.5lbs per cubic foot, our foam stands up to 4lbs per cubic foot, inching it near the realm of memory foam. The elasticity of the foam helps prolong the comfort life of the chair and adds to the overall durability of the product.
Coffee Ground Microfiber
The S5000's backrest and seat is padded with high quality Microfiber infused with Coffee Ground, produced through a patented technology, enabling the material to exhibit unique properties, including being odor control and quick drying for added hygiene and comfort.
Silver Lining
The S5000's embroidery is made out of silver thread. Silver is long hailed for its antibacterial properties. Silver interrupts bacteria's ability to form chemical bonds critical to its survival, so when bacteria meets silver, it falls apart.
Soft-Glide Wheels / Aluminum Alloy Foot
The wheels are engineered for quieter operation and greater resistance to foreign objects and debris. The 5-star base (made from aluminum alloy) keeps the chair solid, stable, and lightweight.
Gas Lift
Fitted with an industrial-quality Class-4 Gas Lift cylinders for extra durability and ease of use, while keeping your seat maintained at the proper height.
Extra Accessories: Cushions
Additional Memory Foam Neck Support and Lumbar Support cushions are included.
---
---
---
---
---
---
---
---
I misread it as $5000 and thought damn Alienware that's quite a bit too expensive ^^
---
---