[PSA] Steam Summer Sale 2022 - Trading Cards & Clorthax's Summer Quest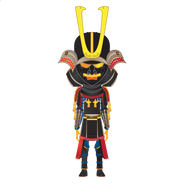 The Steam Summer Sale has started! Here are the most important things to know and do (with focus on free stuff!):
Trading cards (14x)
You can get 1 of them per day (total of 14 free cards if you get 1 every day - resets daily at 17:00 UTC) by using the Explore feature and earning 1 for each time you finish a discovery queue.

If you install the SteamDB browser extension, you can instantly complete a discovery queue by clicking on auto-discover: https://steamdb.info/extension/
You can also get these cards by:
Trading with friends

Drops from purchasing on the Steam Store. (Approximately 1 card every $10 spent on the Store)

Crafting badges from other games. 1 badge crafted will give you 1 summer sale card

Purchasing them directly from the Community Market https://steamcommunity.com/market/
Clorthax's Summer Quest (unique badge, avatars, stickers, Steam 3000 profile)
Autoclaim script in sticky comment if you don't want to bother or page is not loading

Answers to the clues (games you need to find): https://steamdb.info/search/?a=app_keynames&type=-1&keyname=440&operator=1&keyvalue=Clorthax

Guitar Billionaire

Custard Castle Small Claims Court

Bass Ain't Bitin' 2022

Dead Seagull Zoo Magnate

Actually... Frankenstein's Monster Edition

It's Probably Fine

Help The King Get To The Toilet

The Consecration Of Esthme

Pro Poker Amateur

Hold In Your Farts

Click on the game banner if you find the right game to unlock the next clue. Might need to click on the categories on top, on 'show more' or scroll through the various carousels with banners.

After the 10 clues there's a Steam 3000 profile waiting for you on the quest page. Button that says 'click me' at the bottom.

Rewards: Unique badge (250 xp), avatars, stickers, Steam 3000 profile
Points
You can spend 1000 points for the seasonal badge in the Steam point shop, giving you 100xp. Spending 1000 again will level it up, giving you another 100xp. You can also spend it on other things of course, but those won't give you xp.

100 points can be earned for every 1$ you spend, you might already have some points from past purchases. You can spend 300 of those points by awarding people's contents, such as reviews, workshop mods, screenshots and such, earning you a badge upon giving the first award, with 10xp for every award you give.
Other things to note
All prices will remain the same throughout the entire sale.

Be sure to consult 3rd party stores for steam keys, as Steam itself might not always have the cheapest prices.